Phone (309)-737-2466
---
Gallery of work by Miller Custom
Custom .45ACP built on a Les Baer Frame/Caspian Slide/Kart Barrel

More info Soon














---
Custom work for Glenrock Blue - Polishing and Bluing by Glenrock Blue, WY
---
Custom 9mm built on a Lightweight Colt Frame
A gentleman sent in an aluminum frame that needed all the parts for a build. This sports a Caspian frame, Bar-Sto Barrel - supported ramp (which is good for the longevity of the firearm being aluminum), Cylinder and Slide Ignition, Heinie Magwell, Stan Chen Mainspring Housing and all the highest quality parts after consultation on every part that went into this pistol. The rear sight is a 10-8 with an SDM Fabrication gold bead installed on the front. The front sight was made as I always do with the tall blank installed, barreled action tested in the ransom rest and sight trimmed down to the necessary height before the gold bead was installed. The checkering is CNC cut with a 4th axis unit and is a beautiful representation of the classic Diamond Checkering found on grips and older guns in the past. The top of the slide has an arrow pointed serration pattern, but executed without flattening the slide. The ball cuts, cocking serrations and other machining are excellent examples of custom features that really work well with this build. Grips are G-10 Black Double Diamond from VZ and I trimmed them for fitting over the Heine Magwell. Finish is Ionbond DLC. This pistol was another example of the hardest part of doing custom gun work - at the end of the project, I had to give it to the customer that owns it. I would have very much liked to keep it as part of my collection. Cost for this project was around $2,500 with the customer only supplying the frame.
---
Custom .45 ACP on a Les Baer Frame
A gentleman commissioned me to build him a custom 1911 to all his specs after he visited the shop while traveling through on a business trip. We sat and talked over every option and he had the opportunity to hold many different examples of my work to decide which he thought would best suit his needs on this particular gun. The Heinie Magwell, Diamond Checkering, Flat Topped with Racing Stripes, Stan Chen Mainspring Housing, Kart Barrel and Bushing, Recessed Cocking Serrations and Beveling along the bottom of the slide are some of the options that went into this particular build. Cylinder and Slide ignition components, 10-8 Trigger and Rear Sight, Custom Made Tritium front sight and Ball Cuts all work and complement each other as one can see. The finish is Hard Chrome expertly applied and brushed polished by Accurate Plating and Weaponry in Newville, Alabama. I think the most strikingly feature of this build is the grips. Esmeralda was responsible for supplying these beautiful examples of real Ambroyna Burl wood. These grips are expensive at near $180 for the set, but as you can see - they are as stunning as they are gorgeous. The cost for this build for the customer was close to $3,300 after shipping.




---
A Special Build for the Blue Shop
The blue shop, Glenrock Blue, wanted some work done so he sent the pistol in for some TLC to which I worked it over for him. He then took the pistol back and prepped/finished the gun. He then turned it back over to me for final assembly and tuning. I test fired it and did the final accuracy testing in the Ransom Rest. He called me once he had it back to express many thanks. I feel honored that he chose me from a long list of his clients to rework this pistol. It sports Double Dimpled front and rear, Flat Top and Arrow Point "Racing Stripe" slide treatment. I welded the rear sight pocket up and installed a Novak Adjustable rear sight with Tritium Inserts. Tritium front sight, finger relief under trigger guard, lower and flared ejection port with live round extraction cut. All the MIM internals replaced, new 10-8 trigger, borders and rear of the slide serrated at 40 LPI. Enjoy
---
My FiancÚs Pistol
I built this pistol for my fiancÚ. It is her first firearm so she was very well spoiled. Hard chrome Caspian (Foster) rail frame and slide, Kart barrel, Cylinder and Slide ignition and many options. Grips are G-10 by Larry Davidson.
---
Custom 10mm on Les Baer frame
It features a Kart supported ramp barrel and bushing, Caspian slide, Cylinder and Slide ignition, Grieder trigger, Smith and Alexander Grip Safety, Champion (Bomar style) rear sight, Miller Custom front sight with SDM Manufacturing gold bead, Esmeralda grips, and only the best small parts. Options include 30LPI checkering on the front and rear, serrations on the rear of the slide, Vertical cocking serrations (I cut them myself), flat topped and serrated, flush cut Slide Stop and chamfered the hole, spare extractor fit and serrated, and ball cuts on the slide.
---
Custom Springfield .45ACP
---
Twin .45's on Custom Serial Numbered RRA Frames/Caspian Slides
---
Rock River Frame, Caspian Slide, Esmeralda Grips, and a lot of polish
Parts include Cylinder and Slide Hammer, Sear, and Disconnector, Kart Barrel/Bushing, 10-8 Rear Sight, SDM Gold Bead Front Sight and Grieder Trigger. The Grip Safety, Thumb Safety, and Mag Catch are all Ed Brown. The pistol has 25 LPI Checkering on the front and back, 40 LPI Serrations on the top and back of the slide.
Price for a pistol similar to this would be around $2,600.
I especially like this picture where the camera focused on the reflection instead of the pistol.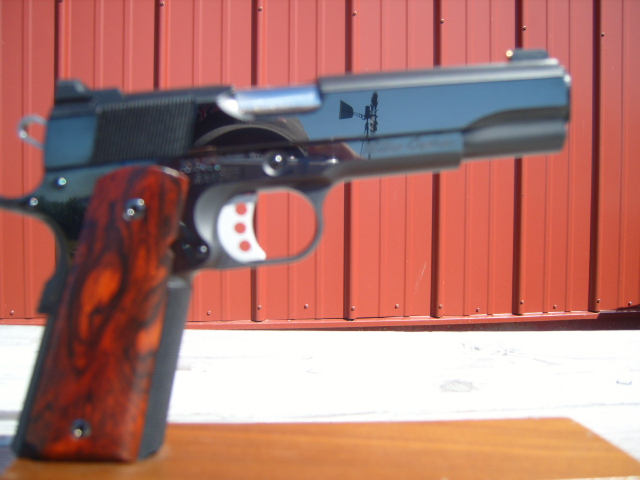 ---
This is my contribution to the Single Stack Classic held in Barry, IL
This started out as a Springfield Gunsmith Kit, donated sights from Heinie Specialty (though I used my own sight blank for the Fiber Optic), and a donated barrel from Bar-Sto. It sports my "Racing Stripe" Arrow Point flat topping and serrations, flutes on the slide, Checkered at 25 LPI front and back, Berryhill Custom ignition components, EGW busing with the monogram SSC (Single Stack Classic) engraved, Ball Cuts, Lowered and Flared ejection port with live round extraction cut, S&A Grip Safety, Grieder Trigger, Finger Relief Cut under the trigger guard, Serrations on the rear of the slide at 50LPI, Staggered Borders, Ed Brown Tactical Thumb Safe and Mag Catch.
Finish is Melonite expertly applied by my friend, Drake O. at Drake's Gun Works.
---
9mm Bobtail Caspian frame and slide
This started out as a brand new frame and slide for a 9mm build. It sports Hard Chrome, thin grips, slide serration in a round top format, fluting, Novak style rear sight, Fiber Optic front sight, and all quality bar stock parts. The ejection port has been lowered and flared with a live round ejection cut. Kart barrel and bushing, Ball Cuts, and a finger relief at the top of the frontstrap under the trigger guard.
---
Custom Commander .45 on a Rock River Frame
This build is on a Rock River Arms frame and a Caspian slide. It sports a Kart Barrel and bushing, 30 LPI Checkering, Heinie rear sight, Tritium inserts front and rear, and a 30 LPI checkered Chen Mainspring housing. It has Ed Brown thumb safety, grip safety, and mag catch. Cylinder and Slide ignition components and a Grieder trigger. The slide was treated with standard flat topping and serrations with flutes on both sides. The Grips are from non other than Esmeralda, which I think adds a nice touch to the High Polished Blue finish. Forgive me for the quality of the pictures, the camera wanted to focus on the reflection in the finish, not the pistol itself.
---
A Nighthawk and Springfield for a few parts, options, and finish
A gentleman sent in a Night Hawk Custom pistol for a few options such as Ball Cuts, Bevel on the Bottom of the Slide, Standard Borders, and finished in Melonite. The Springfield has Ball Cuts, all Hard Chromed Parts Replaced with actual Stainless Steel Parts, Rear Slide Serrations, Weld and Recut the Grip Tangs for Fitting of an Ed Brown Beavertail, New Trigger, and Brush Polish Flats with Matte Rounds. Enjoy.
---